Beyond The Sound of Gravel:
One Woman's Story of Triumph and Courage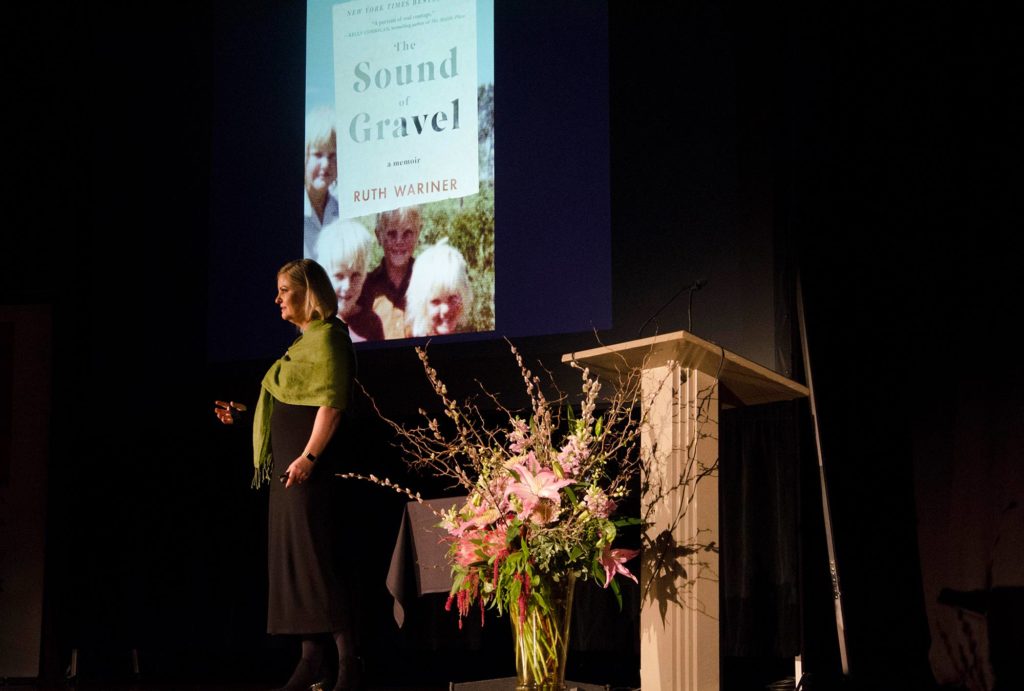 Pictured Above: Ruth Wariner speaks to a sold out audience of 1,000 at VOICES Lectures in Portland, Oregon. Riveting and powerful, her strong voice of resiliency reveals that what we have in side of us is more powerful than any external force or past circumstance. You could hear a pin drop when Ruth was telling her story of coming of age in an abusive, oppressive polygamist colony. The audience was right there with her, and when she reached the ending, there was a huge standing ovation.
In this authentic, unique and powerful program, audiences will discover:
• A sensational story of survival
• How to tap into their personal strength and resilience
•  The possibility of overcoming anything and everything
Ruth's program will remind audiences that no matter where they come from or what they've experienced in their pasts, we all have the power to become stronger than our circumstances.
What People Are Saying
"Ruth Wariner spoke for the 25th season of the VOICES Lectures in Portland, Oregon, sharing a riveting tale of endurance and survival in a lifestyle very few of us can imagine. You could hear a pin drop when Ruth revealed her story of being raised on a polygamist colony founded by her father in Mexico. The standing ovation of near 1000 people told us not only were they moved by her story but inspired by her message that what we have inside of us is stronger and more powerful than even the most horrific circumstances."—Francine B. Read, President, VOICES, Inc.
"Disturbing, powerful, and poignant, Wariner delivers a harrowing story of survival and taking the necessary risk of saving yourself." —Real Simple Magazine
"After reading the amazing story of Ruth Wariner's life, I was so captivated I couldn't stop thinking about it and decided to invite her to our club. Her resilience is even more incredible in person and our audience members were on the edge of their seats the entire time she spoke–even those who had not read the book! Ruth is an inspiration, and she tells her story with power and insight, leaving the audience with a strong sense of empowerment, personal strength and deep gratitude." —Karen Johnson, Meeting Planner and Social Chair at Columbia Edgewater Golf Club
"The Gresham-Barlow Education Foundation had the privilege of hosting Ruth as our "Authors for Education" featured guest. She was a delightful speaker who gave an inspiring talk about the resilience that allowed her to not only overcome traumatic childhood circumstances, but also succeed and thrive. Those in the audience were left with a sense of wonder at her ability to forgive and use her challenges as motivation to get an education and become a teacher and author. Ruth's warm and genuine personality had many of us wishing we could sit across the table from her with a warm cup of tea or fine glass of wine and chat for hours."
—Vicki Moen, Executive Director of the Gresham Barlow Education Foundation
"Ruth Wariner will inspire with her direct, unsentimental prose. I felt nothing but awe and respect. That Ruth survived to tell this story simply boggles my mind." —Jennifer Lauck, New York Times bestselling author of Blackbird, Still Waters, Show Me The Way, and Found